Press Release
Release of "Sinanen Holdings Corporate Report 2021"
~The report presents in accordance with individual business operations and with consideration of ESG, the Group's growth strategies for the realization of a carbon-free society as a general energy service group.~
2021/09/03
Sinanen Holdings Co., Ltd. (Headquarters: Minato-ku, Tokyo, President and CEO: Masaki Yamazaki, hereinafter "Sinanen Holdings"), a comprehensive energy-, housing-, and daily-life services provider, takes pleasure to announce the release of the "Sinanen Holdings Corporate Report 2021" published for viewing on our corporate website.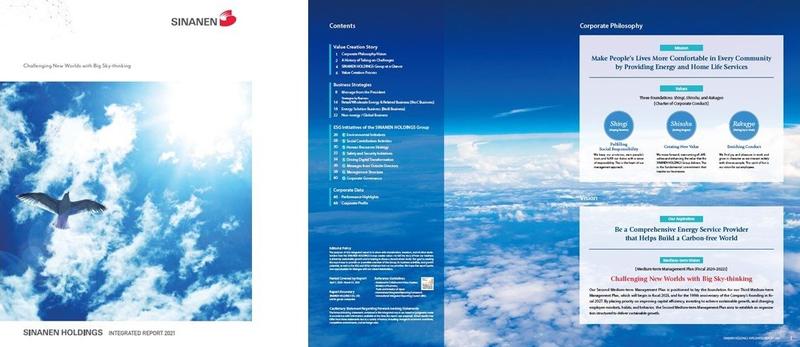 ■The issuance of our Corporate Report

Sinanen Holdings has been working on the 2nd Medium-Term Management Plan for the three-year period since FY 2020. This medium-term management plan is positioned as a business foundation development period for our 3rd Medium-Term Management Plan starting in FY 2023 and with a view to the company's 100th founding anniversary in FY 2027. Under the plan, we are specifically working on (1) improving capital efficiency, (2) executing investments to realize sustainable growth, and (3) reforming employees' thinking, habits, and behavior patterns. Moreover, we also make strategic investments in new businesses such as renewable energy and environment-friendly electric power supply.

Our Corporate Report 2021, which references the "Guidance for Collaborative Value Creation" of the Ministry of Economy, Trade and Industry and the "International Integrated Reporting Framework" of the International Integrated Reporting Council (IIRC), communicates the Group's growth strategies targeting the realization of a carbon-free society and the achievement of SDGs (Sustainable Development Goals), as well as social contributions through our business operations.

In addition, from the perspective of ESG, the report explains in detail the Group's contributions to the environment and society, the promotion of human resources development and diversity, DX (digital transformation) initiatives, strengthening of corporate governance, risk management, and more.

By using the Corporate Report as one of the communication tools for the constructive dialogue with our various stakeholder constituencies, Sinanen Holdings aims to promote sustainable growth and enhance the enterprise value of the Group.

■"Sinanen Holdings Corporate Report 2021" PDF viewing and download page (Sinanen Holdings corporate website)
https://sinanengroup.co.jp/en/ir/library/annual/

■Contents of the "Sinanen Holdings Corporate Report 2021"
【Format】
・52 pages / A4 (* An English version will be published at the end of September.)
【Table of Contents】
・Our Value Creation Story (corporate philosophy and vision, our history of challenges, Sinanen Holdings Group today, our value creation strategy)
・Business Strategies (top message, strategies by business operation)
・ESG at Sinanen Holdings Group (environmental initiatives, social contribution activities, human resources strategy, security activities, DX promotion, Outside Directors' message, management system, corporate governance)
・Corporate Data (performance highlights, company information)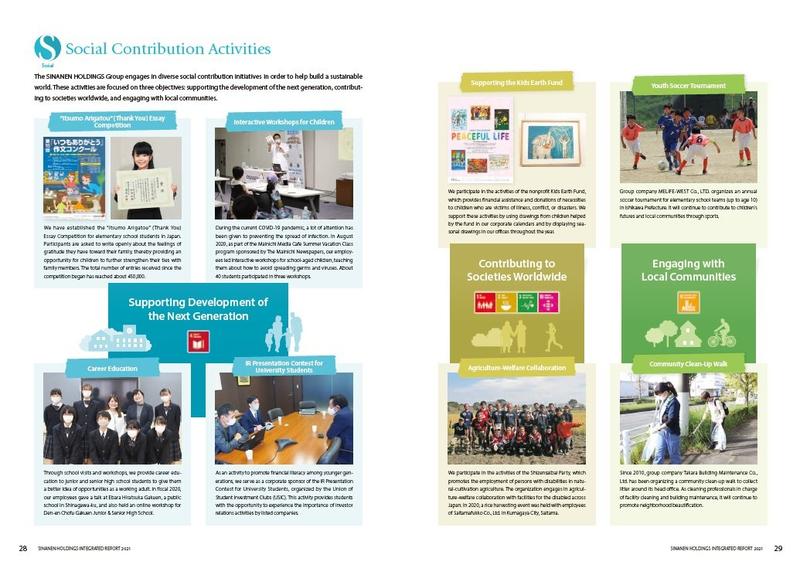 Social Contribution Activities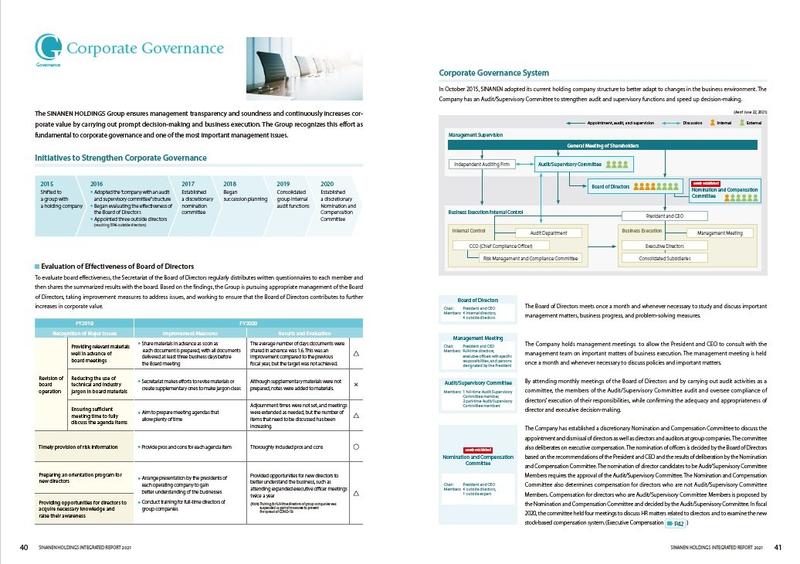 Corporate Governance
■About Sinanen Holdings Co., Ltd.   https://sinanengroup.co.jp/en/
Sinanen Holdings Co., Ltd is a holding company of the general energy service group founded in 1927. With the mission of the Group to contribute to realizing a comfortable life for all customers in their communities through energy and home & life services, we provide Retail/Wholesale Energy & Related Business for consumers, Energy Solution Business for corporations, and non-energy businesses such as building management and maintenance, bicycle sharing, and other services.
[Contact information for the media]
Yoshida, Kimura and Takeshima, public relations IR team, corporate planning department, Sinanen Holdings Co., Ltd.
TEL : +81-3-6478-7807 FAX : +81-3-6478-7824 E-mail : kouhou@sinanengroup.co.jp
Press Release PDF