To Our Stakeholders
To Our Stakeholders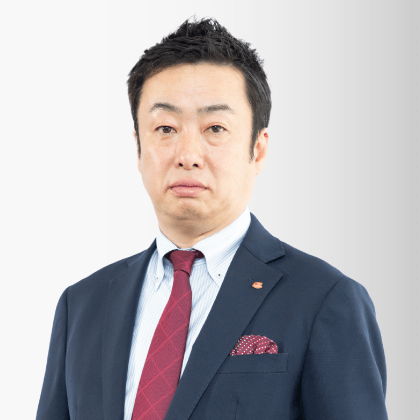 Aspiring to Become a General Energy Service Group
That Contributes to Sustainability
in Anticipation of the Arrival of a Post-Carbon Society
Sinanen Holdings Co., Ltd.
President and CEO
Masaki Yamazaki
Aspiring to Become a General Energy Service Group
That Contributes to Sustainability
in Anticipation of the Arrival of a Post-Carbon Society
I would like to take this opportunity to extend to you my deepest gratitude for your continued support.
Overview of business results (3Q FY2021)
Sinanen Holdings Group launched its second three-year medium-term management plan under the slogan, "Challenging New Worlds with Big Sky-thinking" in the previous fiscal year. This year is the second year of the 2nd Medium-Term Management Plan. In addition to strategic investment in new businesses, we will promote IT-related investments for further digital transformation (DX) as part of executing investments to realize sustainable growth, which is one of the qualitative targets set forth in the plan. In this way, we will be working on establishing a foundation for making a further leap forward with the 3rd Medium-Term Management Plan. In December 2021, we were selected as a certified DX business operator by the Ministry of Economy, Trade and Industry in recognition of our initiatives such as development of a system for promoting DX and establishment of a strategy. In addition, to further enhance synergy as a group and pursue profit growth and operational efficiency, the Group Coordination Promotion Office, which was established in April 2021, is promoting efforts such as sharing of management resources, business know-how, and networks across group companies.
In the BtoC Business (Retail/Wholesale Energy & Related Business), the sales volume was down, especially in early spring and late autumn, due to decreased demand in the mainstay area of LP gas and kerosene as average temperatures were higher than last year. On the other hand, unit selling prices were up owing to a sharp increase in the price of crude oil and propane contract prices. Profit has been steady as rising procurement costs have been reflected in selling prices and proper inventories have been maintained despite the impact of the application of the Accounting Standard on Revenue Recognition detailed below.
In the BtoB Business (Energy Solution Business), sales remained strong owing to a substantial increase in unit selling prices in our mainstay Petroleum Business as well as securing a higher sales volume than that of the same period of the previous year. On the other hand, profit was down overall due primarily to the impact of increased SG&A such as personnel and commission expenses on top of the increase in electric power procurement costs. In the new micro wind turbine-related business, we began field tests in Sapporo City, Hokkaido in December 2021 and are working on observing behavior in cold regions. Also, in South Korea, we continue to await timely permission for development in the large-scale wind power generation business.
In the Non-energy/Global Business, bicycle business operator Sinanen Bike Co., Ltd. saw sluggish performance due to tightening of the supply and demand situation in conjunction with the supply shortage among parts manufacturers as well as a sharp rise in global transportation costs and raw material prices and depreciation of the yen.
Bike-sharing business operator Sinanen Mobility Plus Co., Ltd. promoted development of DAICHARI stations, including by starting new partnerships with SAGAMI RAILWAY Co., Ltd. and YAOKO Co., Ltd. As of December 31, 2021, there are more than 2,100 stations and more than 8,200 bicycles. A record was set for the number of uses in November. In addition, while working on sales activities primarily in target areas where a high level of operations is expected through such efforts as development of land near stations, results have also manifested for efforts to increase the number of uses, such as review of the operational structure.
Environmental and recycling business operator Sinanen Ecowork Co., Ltd. saw steady transaction volume owing to the positive effect of fluctuating supply and demand for wood chips as the decrease in construction waste due to the spread of COVID-19 continues to impact the business. Other businesses such as metal recycling also performed well, contributing to profits.
Antimicrobial business operator Sinanen Zeomic Co., Ltd. struggled with sales due to the rising cost of sales on top of the letup in demand for antimicrobial products associated with the spread of COVID-19. The company continues to cultivate new customers, including the launch of trial production of samples with a leading manufacturer.
Systems business operator Minos Co., Ltd. saw steady demand for its flagship LP gas backbone operation system. Power CIS, its customer information system supporting liberalization of electricity retail sales, also grew substantially and performed well.
Core building management and maintenance business operator Takara Building Maintenance Co., Ltd. saw favorable results overall owing to an increase of new orders for cleaning and disinfecting medical facilities and an increase in the number of maintenance contracts at housing complexes, which bounced back from the previous year. This was on top of the steady contribution of regular management operations at housing complexes such as condominiums. In addition, the company promoted sales activities centered on cleaning and disinfecting to secure stable revenue, and it has seen results, including the acquisition of new annual contracts.
As a result of the above, the financial results for the first nine months of the fiscal year under review were as follows: Net sales came in at 182.719 billion yen (138.969 billion yen in the previous year), operating profit was 602 million yen (1.615 billion yen in the previous year), ordinary profit was 1.087 billion yen (1.686 billion yen in the previous year), and profit attributable to owners of parent was 490 million yen (754 million yen in the previous year).
The Accounting Standard for Revenue Recognition (ASBJ No. 29, March 31, 2020) has been applied as of the beginning of the fiscal year under review. As such, net sales for the first nine months of the fiscal year under review were down 7.812 billion yen, cost of sales was down 7.718 billion yen, and operating profit, ordinary profit, and profit before income taxes were each down 94 million yen. This was primarily due to the change in the standard for recognizing revenue of LP gas sales from the recording of revenue based on customer usage on the meter reading date to recording an estimate of revenue generated through the settlement date in conjunction with the application of the Accounting Standard for Revenue Recognition.
Outlook
No changes have been made to the figures from the full-year forecasts for the fiscal year ending March 31, 2022 announced on May 14, 2021. The impact on full-year consolidated financial results in the fiscal year ending March 31, 2022 of application of the Accounting Standard for Revenue Recognition is expected to be minor.
In addition, the decrease in the number of new COVID-19 cases resulted in a gradual improvement in the difficult circumstances. However, the future remains unpredictable with another spike in COVID-19 cases occurring in Japan and abroad due to the emergence of a new variant. In the first nine months of the year under review, the pandemic was a profit-decreasing factor in the commercial energy business of the BtoC Business (Retail/Wholesale Energy & Related Business). However, overall, the impact was minor as it was a profit-increasing factor in the household energy business.
As stated above, we do not expect COVID-19 to cause significant changes in our business results, but in the event that we determine it is necessary to revise our forecasts due to a resurgence of COVID-19 or significant changes in the business environment, we will disclose those revisions without delay.
Shareholder return
The Company considers returning profit to shareholders the most important management policy. Our basic policy is to provide stable dividends with a consolidated payout ratio of 30% or more. Further, we plan to allocate internal reserves to expanding our business domains and capital expenditures to strengthen our business foundation.We also plan to provide a dividend of 75 yen per share this fiscal year. We plan to provide a dividend of 75 yen per share for the following fiscal year as well.
Thank you in advance for your continued support as we put every effort into further improving corporate and shareholder value and achieving sustainable growth.
SINANEN HOLDINGS CO., LTD.
President and CEO
Masaki Yamazaki